In line with its fundamental objectives, Istanbul Foundation for Culture and Arts (İKSV) has been operating on the local, national and international levels to contribute to the development of cultural policies in Türkiye. This year, with support from the European Union, İKSV launches an extensive project that includes culture, dialogue, and support programmes.
Ortaklaşa: Culture, Dialogue and Support Programme aims to promote dialogue and collaboration between local governments and Civil Society Organisations (CSOs) operating in the field of culture and arts in Türkiye. Within the scope of this three-year-action, a grant support of 1.3 million Euros will be provided to the joint projects coproduced by culture and arts CSOs and local authorities.
The Ortaklaşa project is realised with the participation of Marmara Municipalities Union (MMU) and the collaboration of EUNIC (European Union National Institutes for Culture) Ankara and Istanbul. The project is supported by the European Union's Instrument for Pre-Accession Assistance funds.
Ortaklaşa Field Research and Cultural Policy Report
The programmes of Ortaklaşa will be shaped in light of the quantitative and qualitative data to be attained from a nationwide comprehensive field research. Firstly, the stakeholders trying to continue their culture and arts activities in the earthquake region will be visited as part of the research which will aim to understand the needs, resources and current and potential collaboration grounds of arts and culture professionals working in CSOs and municipalities.
The research study will set out from the question of "What kind of actions, mechanisms and initiatives are needed to achieve a participatory, inclusive, egalitarian, rights-based cultural ecosystem?" and will be published at the end of 2023 as İKSV's 11th cultural policy report since 2010.
Ortaklaşa Grant Programme: 1.3 million Euros to foster collaboration between CSOs and municipalities
As part of the programme, the joint projects to be produced in collaboration of local governments and CSOs working in the field of culture and arts across Türkiye will be given a total of 1.3 million Euros in grants.
Arts and culture CSOs in partnership with at least one municipality will be able to apply to the calls, which will be made in April 2023 and the first half of 2024.
The open calls focusing on three different headings will support:
• arts and culture projects in various disciplines,
• projects wherein a cultural venue is transformed and made functional with the expertise of CSOs, and
• practices encouraging inclusive cultural plannings and culture management.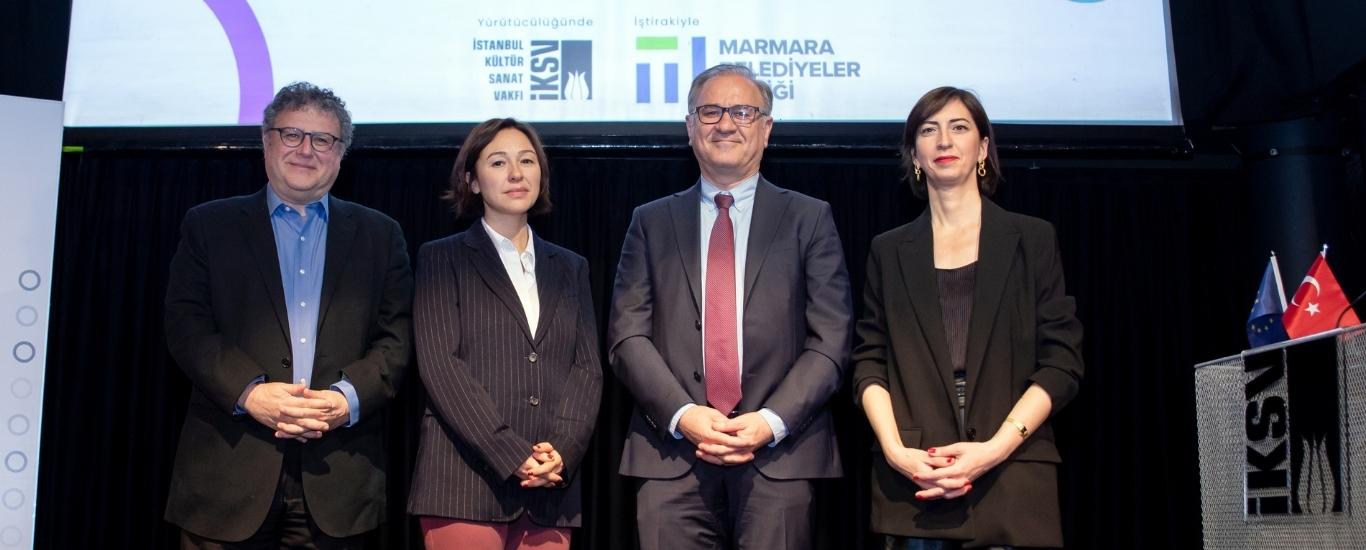 Görgün Taner, Selen Akçalı, M. Cemil Arslan, Özlem Ece | Ortaklaşa Programme Launch Meeting
The grant programme will also encourage arts and culture projects geared towards the earthquake region and those affected by the earthquake.
The grant applications will be evaluated by an independent jury including representatives of İKSV and MMU. The details of the grant programme may be followed at ortaklasa.iksv.org and the social media accounts of the Ortaklaşa Programme.
Ortaklaşa Dialogue Programme: CSO and municipality employees think together
Ortaklaşa Dialogue Programme invites the culture professionals working in CSOs and municipalities to talk about cultural policies and culture management and to learn together through a dialogue programme. Throughout the project, 7 Round Table Meetings and 7 Search Conferences will be held with the participation of civil society and municipality employees to foster participatory local cultural policymaking across all seven regions of Türkiye.
Ortaklaşa Learning Programme: Online and face-to-face meetings
As part of the project, online and face-to-face trainings will also be organised in all seven regions. The learning programme, which will focus on solutions and recommendations that embrace diversity, equality, and inclusivity in local participatory cultural policymaking, will be shaped according to the results of the field research. The content is expected to be designed around themes such as cultural policies, culture management, local cultural planning, cultural pluralism, cultural participation, the social and economic impact of culture and arts, art in the public space, and culture and arts for gender equality and ecological transformation.
Ortaklaşa Learning Programme will also visit the 2023 and 2025 editions of Marmara Urban Forum (MARUF) organised biannually by the Marmara Municipalities Union. Good practices from Türkiye and Europe will be shared during these sessions which will be open to the participation of everyone interested.
Following the project, İKSV will also publish a policy paper and roadmap in 2025 providing concrete recommendations on participatory local cultural policies with a view to share the Ortaklaşa Programme experiences with larger masses and to discuss the ensuing collectively produced ideas with culture professionals.
About the İKSV Cultural Policy Studies
İKSV operates in the field of cultural policy studies with the aim of fostering the exchange of ideas, facilitating participation in the current debates, and contributing to data collection in the field of culture and arts. In line with the research that it conducts to partake in the development of urban and national cultural policies, İKSV publishes cultural policy reports, organizes workshops, conferences, and symposia in cooperation with a variety of institutions, and prepares accompanying publications. You may access the reports, podcast series and other studies published by İKSV to date here.
About the Marmara Municipalities Union (MMU)
Marmara Municipalities Union (MMU) is an association of regional local governments that works for the development of the democratic local government movement, increasing the authority and resources of municipalities, the adoption of sustainable urbanisation approaches, and finding collaborative solutions to the common problems of the municipalities. With more than 180 member municipalities, MMU has members in 11 cities 6 of which are metropolises.
About the EUNIC (European Union National Institutes for Culture)
EUNIC – European Union National Institutes for Culture – is the European network of organisations engaging in cultural relations. It brings to life European cultural collaboration together with its two clusters established in Ankara and Istanbul in 2012 and over twenty members composed of cultural institutes, embassies and consulates. It develops joint cultural activities with partner institutions in Türkiye.
About the European Union's Instrument for Pre-Accession Assistance
The European Union (EU) supports political and economic reforms in Türkiye with financial and technical help through the Instrument for Pre-accession Assistance – IPA. These funds aim at aligning Turkish legislation and standards with the EU's, building authorities' capacity for undertaking this harmonisation, and implementing the reforms throughout the accession process. Thus, it prepares Türkiye for the rights and obligations that come with the EU membership.
The ultimate aim of pre-accession funds is to improve the lives of individuals, by providing them with better opportunities and ensuring they enjoy standards equal to EU citizens.
For detailed information: ortaklasa.iksv.org