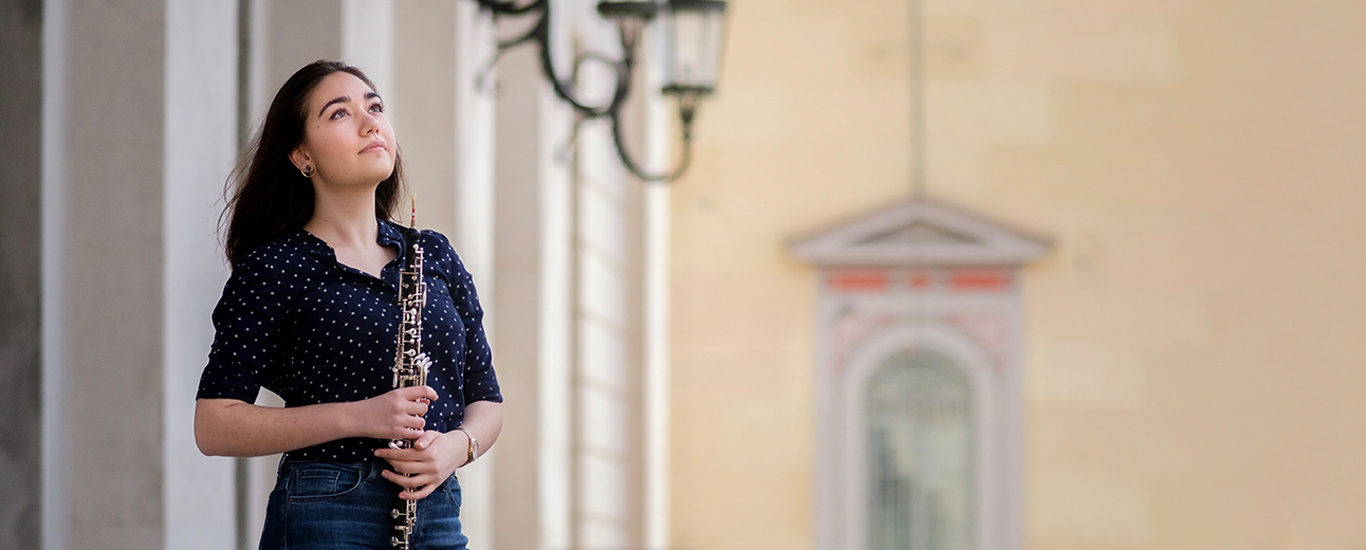 Gülin Ataklı was born in 1998 in Istanbul, Turkey. At the age of 11, she began her Oboe education at Mimar Sinan Fine Arts University Istanbul State Conservatory with oboe artist and pedagogue Mehmet Seyid Mas and studied at Secondary School and Highschool of the Conservatory. She got accepted to study Bachelor of Music at the University of Music and Performing Arts Munich with Prof. François Leleux in June 2016. After her successful graduation in December 2020, she got accepted to study Master of Music in the Oboe Class of Prof. François Leleux.
Currently she is continuing her Master of Music education with Prof. François Leleux at the University of Music and Performing Arts Munich with the contributions of Çev Sanat Foundation Young Talents Project. Gülin Ataklı is the first and only Turkish Oboe artist to study with Prof. François Leleux and to graduate from his Oboe Class at the University of Music and Performing Arts Munich. During her Bachelor and Master studies, she also regularly receives Oboe, English Horn and Reed Making lessons from Tobias Vogelmann, Solo English Hornist of Bavarian Radio Symphony Orchestra.
Gülin Ataklı has been successful in important international platforms, became a Finalist in St.Petersburg International Mravinsky Youth Competition in 2014, won First Prize at "Music of Austrian and German International Competition" in Bulgaria and First Prize as well as Romantic Music Special Prize at "Young Musician International Competition" in Italy in 2015, Second Prize and an invitation for Awards Ceremony Concert at Royal Albert Hall at "Grand Prize Virtuoso International Competition" in England in 2016.
Performed a recital in Shining Stars Recital Series by İş Sanat Foundation Istanbul in 2016. She won First Prize Meriç Soylu Award as well as a performance at season opening concert of the Foundation. She performed Cimarosa Oboe Concerto at İş Sanat Foundation's 17th season opening concert with Borusan Istanbul Philharmonic Orchestra under the baton of Gürer Aykal.
2018, she was chosen as one of the "Women Stars of Tomorrow" by Istanbul Foundation for Culture and Arts and performed at the 46th Istanbul Music Festival as an awardee, within the first edition of Women Stars of Tomorrow Young Women Musicians Support Fund, held by IFCA. She got invited to perform at the 31st Pleven International Music Festival in Bulgaria as a young laureate soloist, where she performed Bohuslav Martinu Oboe Concerto with Pleven Philharmonic. January 2020, performed the 3rd movement of W.A. Mozart Oboe Concerto with Avrasya Philharmonic Orchestra at Çev Sanat Young Talents Concert under the baton of İbrahim Yazıcı. December 2020, performed J.S. Bach Oboe d'Amore Concerto in A Major at her Bachelor graduation recital with a string ensemble, which she conducted and established from students of the university.
Gülin Ataklı then performed J.S. Bach Oboe d'Amore Concerto with Bavaria Klassik International Symphonic Soloists Music Academy at Schlossheim Palace Munich in August 2021. As a result of the concert, she got invited to perform again with the Academy and realized her solo debut at Herkulessaal der Residenz in October 2021, one of the most important concert halls of Munich.
Examples of Gülin Ataklı's prominent performances include various festivals and concert venues such as Audi Sommerkonzerte, aDevantgarde Festival Munich, Münchner Opernfestspiele, Berlin Young Euro Classic Festival, Tsinandali Festival, SCL International Youth Music Festival Vienna; Lisbon, Alicante, Girona International Music Festivals, Istanbul Woodwind Festival, Urla Baroque Festival, Istanbul Baroque Festival, IFCA Open Conservatory Masterclass and Venice Biennale 64th International Festival of Contemporary Music. At the Venice Biennale, she performed together with members of Bavarian State Opera, as a member of ensemble oktopus für musik der moderne, founded by Konstantia Gourzi at the HMT Munich.
She has been rising in her career by working with world-renowned orchestras such as Bavarian Radio Symphony Orchestra, Bavarian State Opera Orchestra and the Orchestra Academy, Camerata Salzburg, Munich Symphony Orchestra, Landestheater Niederbayern, Istanbul State Symphony Orchestra, Camerata Saygun Chamber Orchestra, Georgian Chamber Orchestra Ingolstadt, West-Eastern Divan Orchestra, Camerata Sinfonica Munich as guest, as well as guest principal Oboe; working with notable conductors such as Daniel Barenboim, Herbert Blomstedt, Fuad Ibrahimov, Mariss Jansons, Theodore Kuchar, Cem Mansur, Gianandrea Noseda, Lahav Shani and soloists such as Yuja Wang, Mischa Maisky, Michael Barenboim. She performed many concerts at prestigious venues such as the Herkulessaal der Residenz, Munich National Theater Opera House, Philharmonie im Gasteig, Cuvilliés Theatre Munich, Berlin Konzerthaus, Stiftung Mozarteum Salzburg, Wiener Musikverein, Vienna ORF Radiokulturhaus, KKL Lucerne, Prague Smetana Hall, Budapest Pesti Vigado Hall, Hubertus Hall Nymphenburg Palace, Schleissheim Palace, Kulturzentrum Sillian Austria, Pecs Kodaly Center, Bratislava Slovak Radio Hall, Istanbul Zorlu Center, Istanbul Grand Pera, Boğaziçi University Albert Long Hall, Warsaw Philharmonic. She joined the West-Eastern Divan Orchestra and realized a Concert Tour in the United States of America in November 2018. Concerts were performed at prestigious venues such as Chicago Symphony Center, The Kennedy Center Washington D.C., Carnegie Hall New York, Berkeley Zellerbach Hall San Francisco and Walt Disney Concert Hall Los Angeles under the baton of Daniel Barenboim. Medici TV live broadcasted the concert in Carnegie Hall, New York. She became a member of Neue Philharmonie München, Tsinandali Festival's Pan-Caucasian Youth Orchestra, Turkish National Youth Philharmonic Orchestra and Doğuş Youth Symphony Orchestra and performed many concerts as Princial Oboe in several Europe Tours, in Turkey and in the world.
By participating in many masterclasses, she had the chance to work with Maurice Bourge, Nick Deutsch, Georg Fritz, Giorgi Gvantseladze, Diethelm Jonas, François Leleux, Anatoly Lubimov, Albrecht Mayer, Christian Schmitt, Christian Schneider, Marie Lise Schüpbach, Heike Steinbrecher, David Walter, Christian Wetzel.
She performed several chamber music concerts with professors and musicians such as Georg Arzberger, Carsten Duffin, Johannes Hinterholzer, Dag Jensen, François Leleux, Andrea Liberknecht, Tobias Vogelmann. With her Atlas Quintet, she performed pieces by Ligeti, Danzi, Taffanel, Beethoven and Nielsen.
She became one of the three scholars chosen by her university in Munich to be supported by Manfred and Monika Wölfel Foundation for the 2019/2020 academic year. 2020, she received scholarship from DAAD. She became a member of Yehudi Menuhin Live Music Now Association in Munich with her Atlas Quintet and started realizing chamber music concerts within the association. For the academic year of 2021/22, she has been granted the prestigous Borusan Music Scholarship and Eczacıbaşı Music Scholarship, making her a scholar of both Dr. Nejat Eczacıbaşı Foundation Istanbul and Borusan Kocabıyık Foundation Istanbul.
Moreover, young artist got accepted to study at Conservatoire National Supérieur de Musique et de Danse de Paris with oboe artist and pedagogue David Walter within the Erasmus+ student mobility program, during Summer Semester of 2022.