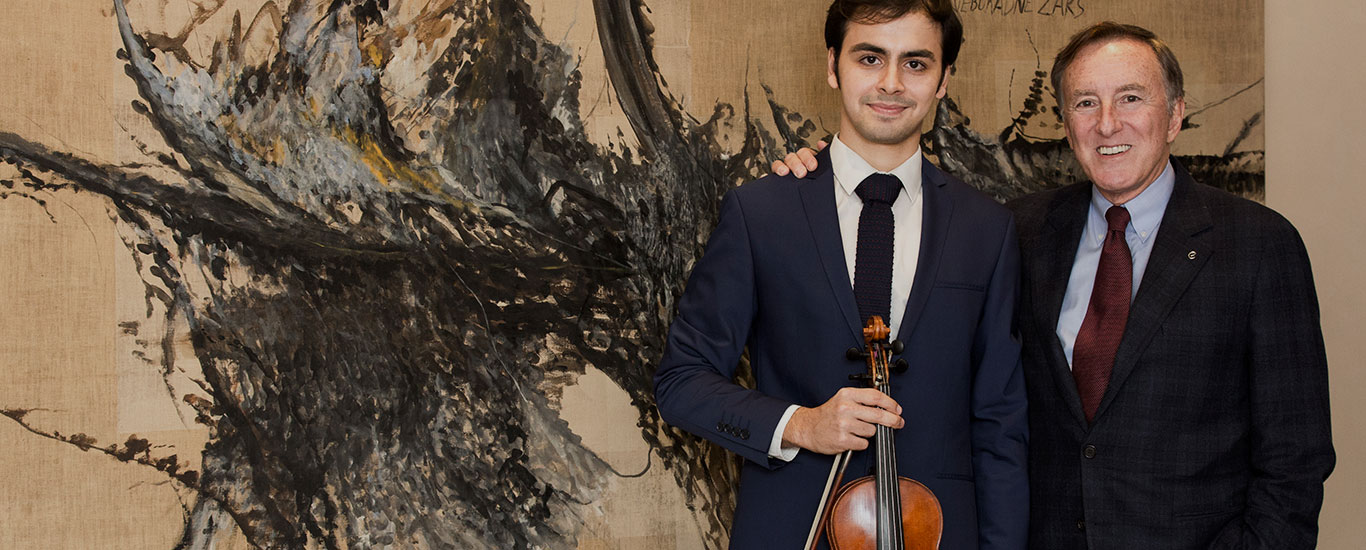 Emre Engin completed his high school education at Uludağ University's State Conservatory before being admitted to London's Royal Academy of Music for his undergraduate education, from where he graduated with high honours. Engin is currently continuing his graduate education in Pinchas Zukerman's class at New York's Manhattan School of Music, where he was offered a full scholarship. Engin is also a holder of a distinctive scholarship from The Foundation for Contemporary Education's Outstanding Talents Project (Çağdaş Eğitim Vakfı Harika Yetenekler Projesi), with additional support from Dr. Nejat F. Eczacıbaşı Foundation.
Ranking first in the auditions for the Istanbul Music Festival's "In Search of its Young Soloist" project in 2012, Emre Engin took part in the festival, accompanied by the Istanbul University State Conservatory Symphony Orchestra, lead by maestro Ramiz Malik Aslanov.
Having participated in many festivals, including the International Keshet Elion Summer Festival, the International Tunisia Young Virtuoso Festival, and the International London Britten Music Festival, Engin has had the opportunity to perform on many important stages and work with names like Cihat Aşkın, Pinchas Zukerman, Shmuel Ashkenasi, Vadim Gluzman, Patty Kopec, and Itzhak Rashkovsky. Receiving the Yehudi Menuhin Award, given by the Royal College of Music and the Sudborough Foundation, and the main prize at the Lilian Fuchs Chamber Music Competition, the young violinist has performed at the Royal Festival Hall in London, as well as the Music Above the Park House in Madrid. As part of the Keshet Eilon Festival in Tel Aviv, Engin recorded Fazıl Say's Violin Sonata for Israel Radio International and New York FM, while also auditioning and earning a spot as one of the five violinists to perform at the special Homage to Mischa Elman concert.
In addition to his orchestra-accompanied performances, Emre Engin has been continuing his chamber music work as part of a string trio, featuring Pinchas Zukerman's assistant violist Cong Wu and cellist Thomas Dega. Since July 2015, Engin has also undertaken the role of the co-founder of the International Notes at the Bay Violin Festival in the state of California.